Located in the heart of Kelowna, The Kelowna Wellness Clinic is dedicated to helping you achieve your wellness objectives — combining skill and expertise that spans the entire integrative healthcare and wellness spectrum. Dr. Brent Barlow, ND; Dr. Joshua Stehmeier, DC; and Stephanie Schmaltz, RMT are committed to bringing you better health and a better way of life by teaching and practicing the true principles of integrative healthcare and wellness.
Dr. Joshua Stehmeier, DC, NUCCA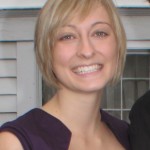 Stephanie Schmaltz

Stephanie is a graduate from Okanagan Valley College of Massage Therapy.  After graduating in 2008 Stephanie started practicing massage therapy in Oliver, B.C.  In 2010 she moved to the beautiful city of Kelowna and has been practicing at The Kelowna Wellness Clinic since.
Stephanie believes that massage therapy helps facilitate the body's natural healing process by increasing awareness of the body, decreasing stress and maintaining and improving tissue health.
Stephanie promotes living an active and healthy lifestyle. She spends her free time snowboarding, hiking, mountain biking, rock climbing, practicing yoga and playing soccer.
She has volunteered at many events such as Iron man, Grandfondo, and local marathons.
She continuously updating her knowledge of new techniques which enables her to offer her clients the most effective treatment for their individual needs.
Stephanie is registered with the College of Massage Therapists of B.C. ( www.cmtbc.bc.ca) and is also a member of the Massage Therapists Association of B.C. (www.massagetherapy.bc.ca).
Stephanie is always welcoming new clients along with any questions or concerns about massage therapy.  Check out her website at: http://activemassagekelowna.com/ or call 250-448-9097 to schedule an appointment.